MITseaAH - Excitement in Motorsailing
Pedrick Yacht Designs is pleased to have provided performance design and engineering services for the breakthrough motorsailer MITseaAH - a luxury sailing yacht that exceeds 22 knots under power. Through a clever combination of design features, this 48 meter (156 ft) motorsailer offers both exhilarating performance and oceanic cruising range.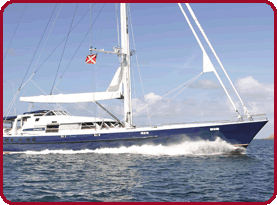 MITseaAH's project management, general arrangement, interior and exterior design, styling and detailing were produced by Liebowitz & Pritchard Architects. Pendennis Shipyard constructed the yacht and provided detailed systems design and on-site project management. Pedrick Yacht Designs developed the vessel's naval architecture and innovative performance and mechanical features.
MITseaAH's hull form was patterned after light-displacement sailing dinghies, including the use of retractable appendages. Her deep, bulbed keel draws 7 m (23 ft) under sail, yet reduces to just over 2 m (7 ft) when raised, centerboard-style, for motoring and harbor access. The rudders retract vertically from 3 m (12 ft) to the 2 m harbor draft.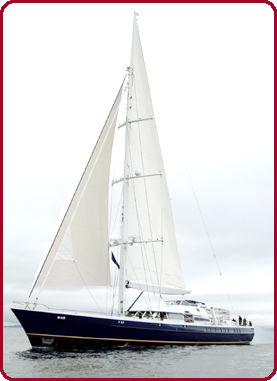 The sail plan is fractional, like a Twelve-Meter Class yacht, driven by the need to pass under the Brooklyn Bridge. The fixed mainmast, to which the headstay and shrouds are permanently attached, meets the bridge's air draft of 39 m (127 ft), above which a retractable topmast extends an additional 9 m (30 ft) to fly a large, boom-furling mainsail. MITseaAH's deep keel and moderately light displacement give pleasing performance under sail.
Her exceptional speed under power comes from efficient hydrodynamic design and muscular propulsion. Large, controllable-pitch propellers are powered by twin diesels, each delivering 3,500 hp. To maintain shallow harbor draft, the propellers fit into deep, gracefully sculpted recesses in the hull's afterbody. Adding to the "firsts" for this high-performance motorsailer are full-length spray stakes and large trim tabs aft, split at centerline to double as active, roll-control stabilizers.
By using Alustar aluminum in the yacht's hull and deck structure, Pedrick Yacht Designs and Pendennis Shipyard saved weight while meeting classification society strength criteria. As a UK "red-flagged" vessel intended to meet charter service requirements, MITseaAH has been built and equipped according to the safety criteria of the MCA (Maritime and Coastguard Agency) Code of Practice.
With MITseaAH, Pedrick Yacht Designs has transcended conventional thinking and broadened the scope of what a multi-purpose yacht can be.