Refit & Restoration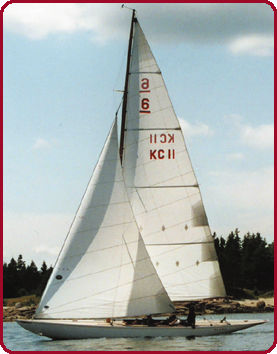 In addition to having vision for new creations, Pedrick Yacht Designs (PYD) has the knowledge and engineering skill to restore neglected, classic yachts back to prime condition, and to improve or repair yachts designed by others. Full restorations of classic wooden yachts have involved structural engineering, stability assessment, sail plan and helm balance review, sail handling hardware selection, deck layout and rating optimization. Re-fits often entail these skills, along with diverse services such as the design of new keels and rudders, propulsion systems and watertight subdivision to meet US Coast Guard Subchapter T Passenger Vessel requirements and those of other regulatory authorities.
1930 Fife Six-Meter Restoration
Alana is now a beautiful Fife classic yacht, having been neglected for decades. Due to a class rule change in 1933 and a missing keel casting, Pedrick Yacht Designs did what William Fife would have done if he had been asked at the time - respond to the rule change and fit an updated keel and rig of the 1935-38 vintage. The restoration involved a full structural assessment, faithful refinement of her deck plan, sensitivity to her design era and optimization to the current Six-Meter Class Rule. Alana is now looking spectacular, excelling in races again and giving her owner much pride and pleasure.
Two Re-fits - Two Twelve Meter Champions

Pedrick Yacht Designs has been commissioned by several clients in the Twelve Meter Class since the build-up to the America's Cup Jubilee in 2001, and is especially pleased with the success of two of our updated designs in 2004. Courageous (12-US26) and Hissar (12-KZ5) both dominated their respective divisions in their victories at the Twelve Meter North American Championship Regatta in September 2004.
Pedrick Yacht Designs returned Courageous close to her 1977 America's Cup winning form during 2002, but refined her deck plan for best advantage under the current class rule. drew a new keel to be competitive with her 1980-83-vintage competitors, designed a new rudder, made structural improvements, re-balanced her sail plan for best performance and optimized her rating characteristics to the current Twelve Meter Rule. As a result of PYD's expertise, Courageous is now the fastest that she has ever been.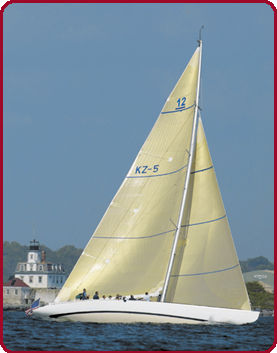 Hissar started life as one of Team New Zealand's 1987 "plastic fantastics," a trial horse for her later and faster stablemate, KZ-7. Competing in the winged-keel division, Hissar seemed a little off the pace in 2003, so her owner came to Pedrick Yacht Designs for an aggressively competitive upgrade in keel design and rating optimization. Using an outside consultant in Computational Fluid Dynamics, PYD designed a new keel and winglets for optimum, all-around performance. Both Hissar and KZ-7 were very well sailed in the North American Championships, but Hissar dominated in a 7-0 sweep by comfortable margins throughout the series - evidence of Pedrick Yacht Designs' technical edge.